Saudi Arabia's budget recorded a deficit of -SAR 8.2bn (-USD 2.2bn) in H1 2023, compared with a surplus of SAR 135.4bn (USD 36.1bn) in H1 2022. Revenue declined by -8.1% y/y in the first half, entirely due to lower oil revenues. Non-oil revenues grew 10.8% y/y as taxes in income, profit and capital gains jumped 66%. Zakaat and investment income also grew y/y in H1 2023.
Expenditure increased almost 18% y/y in H1 2023, even as budget revenue declined. Investment (capex) spending remained strong, up 67% q/q in Q2 alone and almost 37% higher than in H1 2022. Current spending increased 16% y/y in the first half of 2023, with interest expenses, grants and social benefits as well as general spending all rising sharply compared with H1 2022. Public sector wage growth was up almost 6% y/y in H1 2023, double the official inflation rate.
While we expect oil prices to rebound in H2 2023, the government has extended its substantial 1mn b/d voluntary production cuts through September at least, and overall we expect oil revenue to the budget to be lower this year than in 2022. However, the additional performance linked dividend from Aramco will provide a boost in H2 2023, and we have revised our full year budget deficit forecast to -0.7% of GDP from -2.3% previously. We expect this to be financed through debt issuance. Indeed, the official budget release shows all of the H1 deficit was financed through external borrowing.
Saudi budget posts a modest budget deficit in Q2
Source: Haver Analytics, Emirates NBD Research
Non-oil sector growth remained strong in Q2
Preliminary GDP for Q2 showed the oil and gas sector contracting by -4.2% y/y as the government implemented oil production cuts. However, overall non-oil sector GDP growth remained robust at 4.9% y/y in Q2 2023. The private non-oil sector expanded 5.5% y/y while government services growth slowed to 2.7% y/y from 4.9% in Q1 2023. Headline GDP growth came in at 1.1% y/y in Q2.
We expect hydrocarbons GDP growth to be negatively impacted by production curbs in H2 as well, but this is likely to be largely offset by resilient non-oil sector activity, which appears to be underpinned by government and GRE investment spending. Overall, we expect a modest contraction in headline GDP growth in the kingdom this year of -0.5%.
Oil cuts weigh on Q2 GDP growth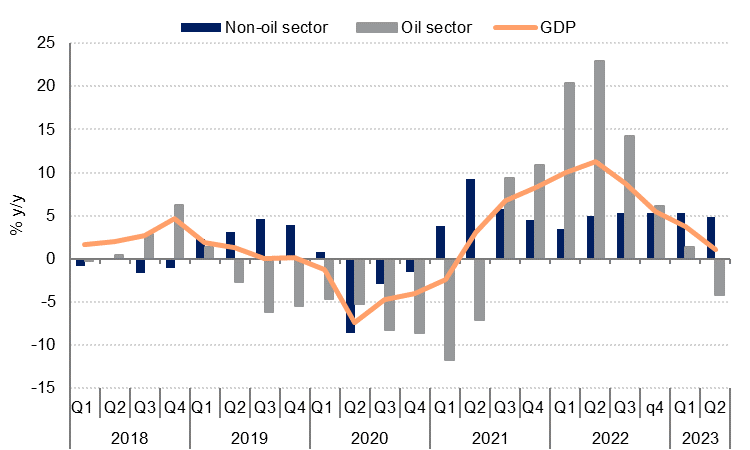 Source: Haver Analytics, Emirates NBD Research