The Middle East leads the recovery in international tourism
According to the World Tourism Organization (UNWTO), the Middle East is the only region that has fully recovered from the pandemic in terms of international tourist arrivals, exceeding 2019 levels by 15% in Q1 2023. The rest of the world has still not fully recovered from the effects of the Covid-19 travel restrictions, with Europe at 90% of pre-pandemic levels, Africa at 88%, Americas at 86%, and Asia pacific at 54%.
Tourist arrivals in Q1 2023 relative to 2019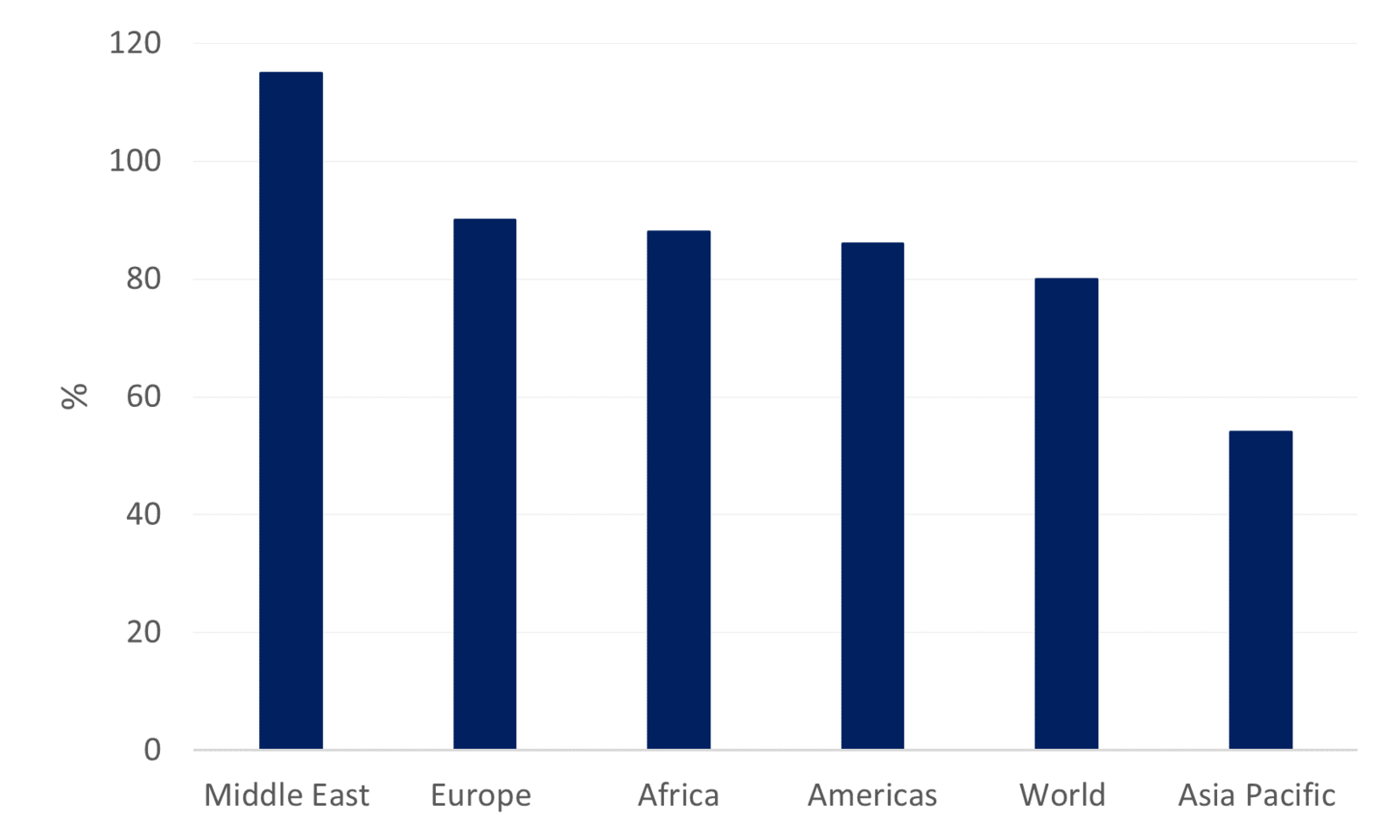 Source: UNWTO, Emirates NBD Research
The UAE and Saudi Arabia lead the region in occupancy rates
The UAE and Saudi Arabia are the only two countries in the MENA region that have exceeded pre-pandemic hotel occupancy rates for the period from January to July 2023. The UAE's average occupancy rate is 74.5%, 2.7pp higher than the same period in 2019. Visitor numbers to Dubai hit record numbers in H1, reaching a cumulative total of 8.6m compared to 8.4m in H1 2019. The tourism subcomponent of the Dubai PMI has also been squarely in expansionary territory this year, with firms reporting strong business optimism and continued hiring.
Saudi Arabia's average occupancy rate was 62.8% in the first 7 months of this year, 2.9pp higher than the same period in 2019. Egypt and all GGC countries, except Qatar, registered a y/y increase in average occupancy rates. Occupancy rates in Qatar declined from 57.2% in 2022 to 53.1% in 2023 for the period from January to July. Visitor numbers to Qatar are higher this year than last, welcoming 2.6mn visitors over January to August (up 157% y/y) but hotel room supply remains high following the FIFA World Cup.
Average hotel occupancy rate in MENA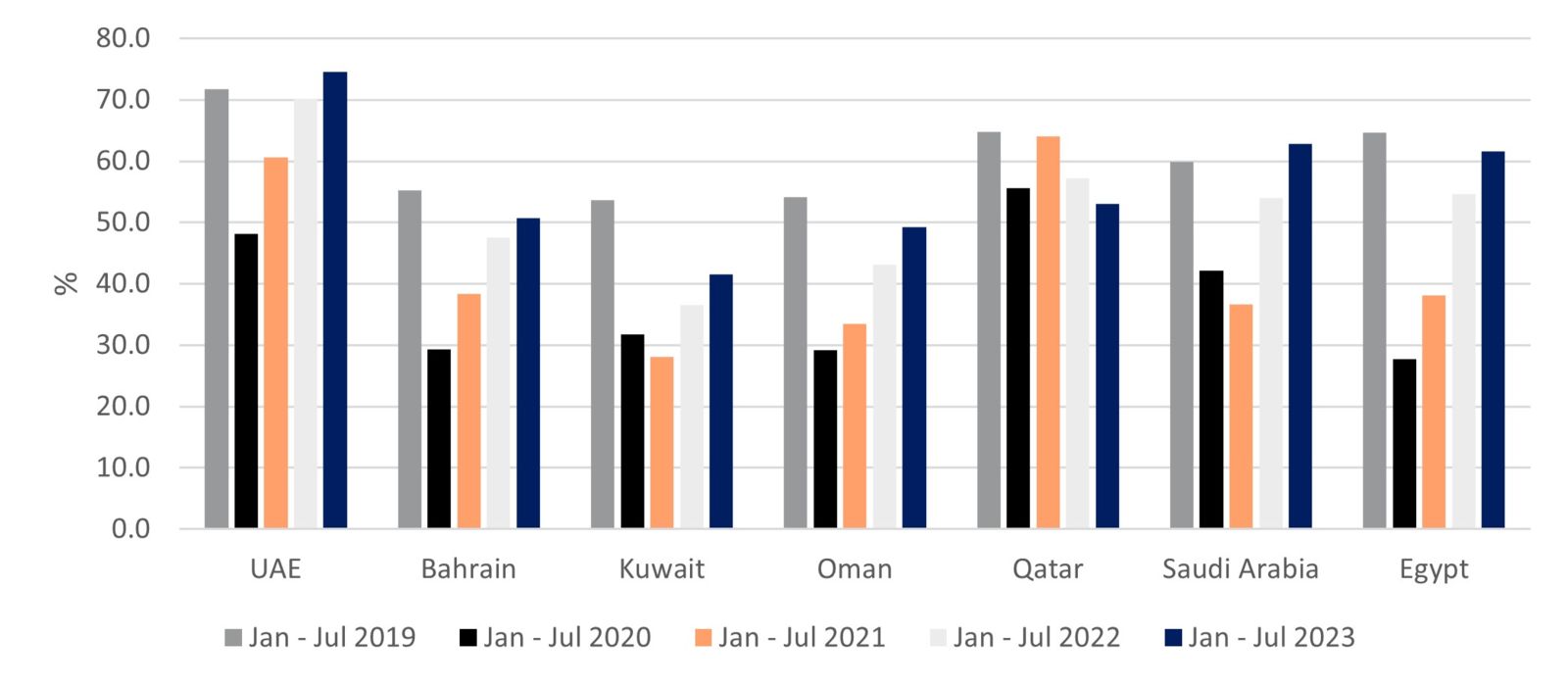 Source: STR, Emirates NBD Research
RevPAR in the UAE, Saudi Arabia, and Egypt exceeds pre-pandemic levels
UAE, Saudi Arabia, and Egypt have all seen revenue per available room (RevPAR) exceed pre-pandemic levels. The UAE's average RevPAR in the first 7 months of this year increased by 23% from the same period in 2019 to USD 123. Saudi Arabia saw the biggest increase in average RevPAR, up 37% from 2019 to USD 127.2, while Egypt's average RevPAR rose 31% over the same period to USD 66.9.
Despite Egypt's hotel occupancy levels not yet being fully back to pre-pandemic levels, the growth in RevPAR is attributable to a surge in the average daily rate (ADR), which was up 39% from 2019 in USD terms. Egyptian hotels, especially the multinational chains which have driven the growth in rooms in recent years, tend to price in dollars which helps to shieled them from local currency weakness. They were also able to significantly raise their ADR during the COP27 event held at Sharm el-Sheikh in Q4 last year. From October 2022 to November 2022, Egypt's ADR jumped from USD 93.5 to USD 146.0, and while it fell back following the conference's completion, it has still averaged higher this year than last.
Average RevPAR in the MENA region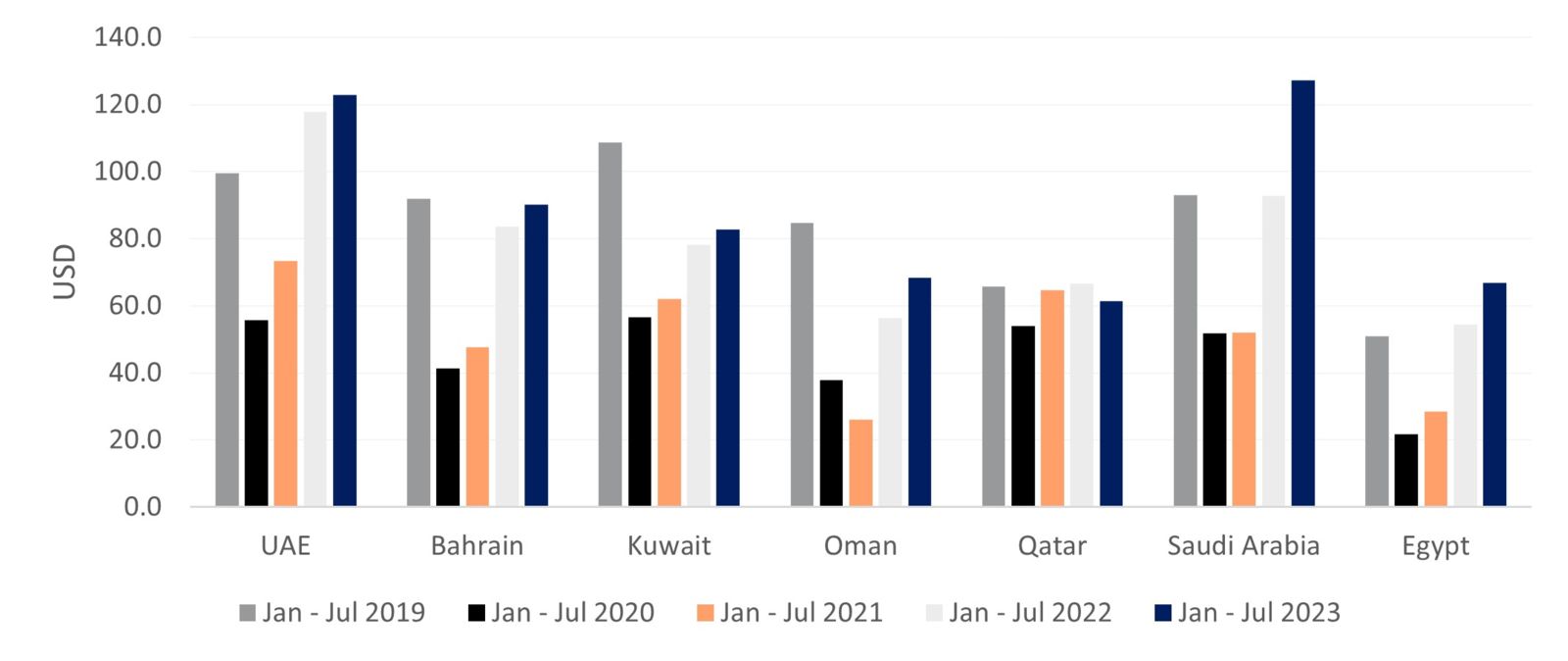 Source: STR, Emirates NBD Research
Egypt targets 15mn visitors in 2023
Egypt welcomed 7mn visitors in the first half of 2023. The country is on course to hit a new record of 15mn visitors in 2023, exceeding the 13mn registered in 2019. Room supply in Egypt rose 1.7% y/y in July 2023 to 176,341 rooms. Tourism is a major pillar in the Egyptian economy and is one of the main sources of foreign currency. With a shortage of dollars and slower portfolio inflows – which sustained the current account deficit prior to the pandemic - attracting tourist dollars has become even more important. The country has an ambitious vision to boost tourism and attract 30mn visitors and USD 20bn in foreign investments by 2028.
Saudi Arabia aims to become a global tourist hub
According to the latest figures from the Saudi Tourism Authority, the country welcomed 7.8mn international visitors in Q1 2023, a 212% increase y/y and a 65% increase from pre-pandemic levels in 2019. Tourist spending amounted to SAR 36.8bn, a 225% y/y rise and a 71% increase from 2019. The e-visa program, which was launched in 2019, played a major role in the increase in number of international visitors. In 2022, Saudi Arabia extended its e-visa program to include the holders of valid Schengen, United Kingdom and United States of America visas that have been used to enter those countries before arriving in Saudi Arabia, and to permanent residents of EU and GCC countries, and the United Kingdom and United States of America. Earlier this year, Saudi Arabia announced the launch of the free 96-hour stopover visa program through SAUDIA and Flynas airlines which is likely to further boost international visitor numbers.
As part of its 2030 vision, Saudi Arabia aspires to become a global hub for tourism. The country has pledged to invest heavily in the sector in its efforts to boost the tourism industry and increase the sector's contribution to the GDP to 10% as part of its diversification efforts away from oil and gas. Saudi Arabia's Minister of Tourism, Ahmed bin Aqeel Al Khateeb, said during the 10th Arab-China Business Conference that the Kingdom will invest more than USD 800bn over the next decade. He also said that the tourism sector's contribution to GDP has risen to 4.45%.
According to a recent report by property consultancy Knight Frank, Saudi Arabia is preparing to rapidly expand its hospitality sector by developing 315,000 additional hotel rooms by 2030, at an estimated development cost of USD 37.8bn. Room supply in Saudi Arabia has risen 3.9% y/y in July 2023 to 138,925 rooms.
Domestic tourism is a major contributor to the success of Saudi's tourism sector. In 2022, Saudi Arabia had 93.5mn visits out of which 77mn were domestic travelers and 16.5mn were international travelers, a 121% increase in total visits from pre-pandemic levels. According to a survey report by property consultancy Knight Frank, 65 percent of Saudis travel within the kingdom between one to three times a month.