Both the UAE and Saudi Arabia PMIs slipped in July to 56.0 and 57.7 respectively. However, both surveys reflect strong growth in business activity and new work last month.
UAE
In the UAE, 30% of businesses surveyed reported increased activity in July in the S&P Global PMI survey, with less than 2% reporting a fall. New work growth slowed from June but remains robust and continues to be driven by domestic demand, with new export orders unchanged m/m in July. Backlogs of work have been increasing consistently over the last couple of years, and in July they rose at the sharpest rate on record. While this can be an indication of lack of capacity given sustained strong new order growth, firms attributed some of the buildup in backlogs to delays in client payments.
S&P Global UAE PMI: Backlogs of work rose sharply in July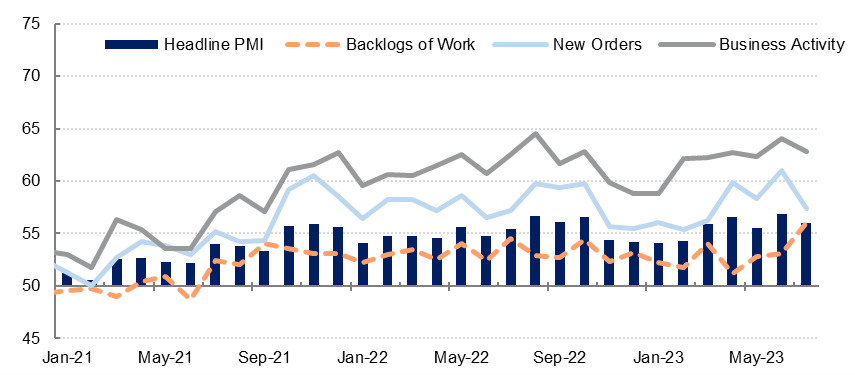 Source: S&P Global, Emirates NBD Research
Employment in the private sector increased in July but at the slowest rate in three months, and supplier delivery times continued to improve. Input cost inflation remains muted and firms reduced selling prices once again with discounts offered in July. Businesses remain optimistic about the outlook, with 17% of panelists expecting their output to rise over the coming year.
Overall, the UAE PMI survey indicated solid growth in the non-oil sectors of the UAE at the start of H2. Recently released data for Q1 showed non-oil GDP growth of 4.5% y/y, and we retain our forecast for 5% non-oil growth for the full year.
Saudi Arabia
In Saudi Arabia's Riyadh Bank PMI survey, the output index remained near the eight-year high seen in June, while new work growth slowed slightly last month. In contrast to the UAE, new export orders continue to rise strongly in the kingdom, supporting overall new order growth. Despite the robust activity and new orders, backlogs of work have declined every month over the last year.
Employment in the private sector increased in July but at the slowest pace since January, and staff costs moderated. Input price growth also slowed in July and firms reduced selling prices slightly for the first time since 2020, as they sought to stimulate demand and clear excess inventory.
Riyadh Bank Saudi Arabia PMI: Some price discounting evident in July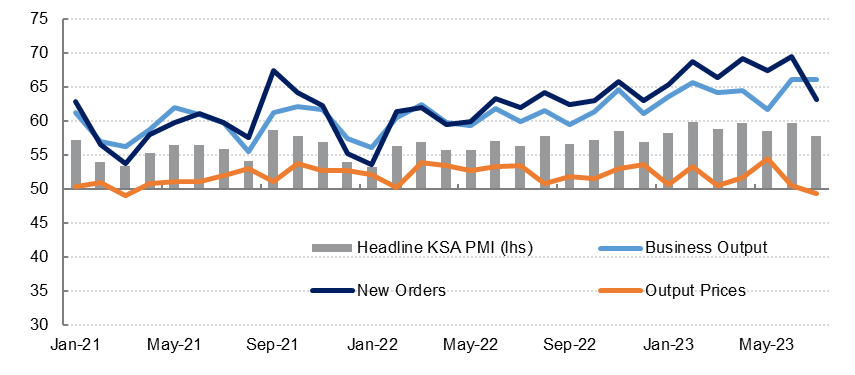 Source: S&P Global, Emirates NBD Research
Preliminary GDP data for Q2 2023 showed non-oil growth (including government services activity) of just under 5% y/y, in line with our full year forecast. The July Riyadh Bank PMI survey suggests growth remained strong at the start of H2.
Egypt
Egypt's S&P Global PMI was broadly unchanged from June at 49.2 in July, only slightly below the neutral 50-level that separates expansion from contraction. Output and new work declined at a slower pace than in June and employment in the private sector was largely unchanged m/m in July. Input prices continued to rise last month, but the rate of input price inflation has slowed markedly since Q4 2022 and early 2023. Selling prices increased at the slowest pace since April 2022, indicating that consumer price pressures may be easing as well.