China recorded another strong month for energy commodity imports in August despite the underperformance this year in China's industrial sector. Crude oil imports rose 21% m/m to 52.8m tonnes, not far off the peak level of 53.2m tonnes recorded in June 2020 when China took advantage of low oil prices to build up strategic stockpiles. In the year to date, China's crude oil imports have risen almost 15% even as manufacturing and construction activity have slumped. Refined product imports this year have been even stronger, rising by more than 100% ytd as of August although they did slip month/month.
China's energy imports continue to run strong in August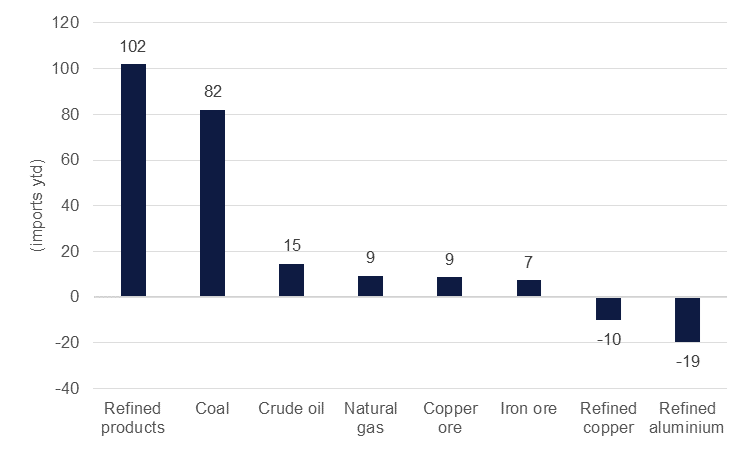 Source: Bloomberg, Emirates NBD Research
Coal and natural gas imports have also risen strongly this year. Coal imports were up 82% ytd as of August while natural gas imports (both piped and LNG) have increased 9%. The strength of the energy import data compared with relative weakness in industrial metals suggests that stockpiling is behind at least part of the growth in energy trade. Imports of metals have been far more lacklustre and in line with an economy where industrial activity is soft. Refined copper imports are down 10% year-to-date as of August while aluminium and products have dropped nearly 20% ytd. Iron ore has been a relative outperformer among industrial metals with imports up a bit more than 7% ytd. The pull in of iron ore is fuelling a sharp increase in steel exports with product exports up more than 28% ytd as of August.
On aggregate, China's trade numbers for August were still negative. Exports in USD-terms fell 8.8% y/y and imports dropped by 7.3%. However, both flows came in better than market expectations and were an improvement on the deep decline a month earlier when exports fell almost 15% y/y and imports fell 12% y/y. A bottoming out of China's trade slump may help to temper some anxiety on the near-term trajectory for the country's economy even as the property sector goes through a difficult transition period.