Dubai's tourism sector received record visitor numbers for the first half of 2023. The city attracted 8.55mn international visitors, up 20% y/y and exceeding the previous record registered in 2019 of 8.36mn visitors.
Total number of visitors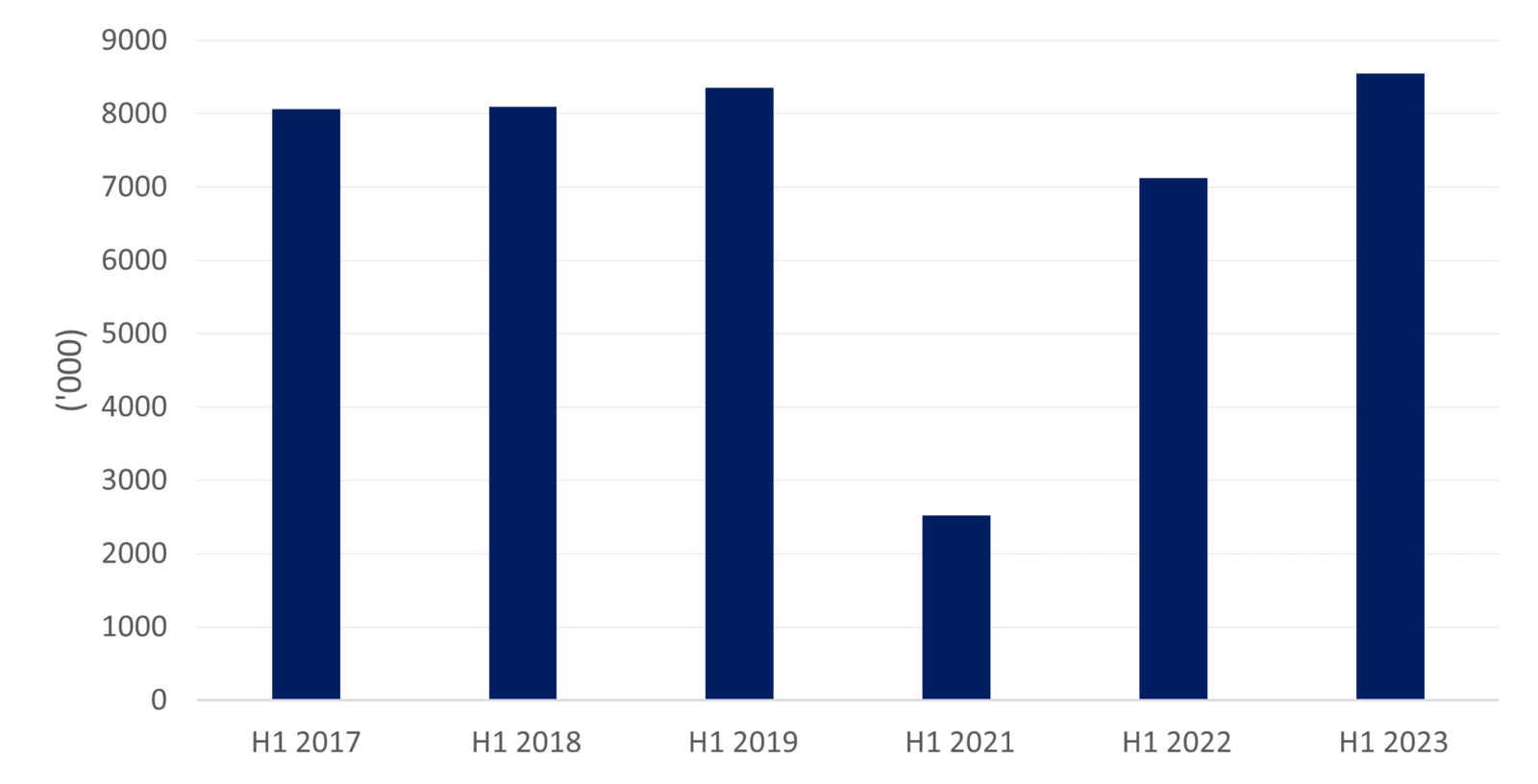 Source: Emirates NBD Research
Western Europe was the largest source of visitors, making up 20% of the total volume in the first half of 2023, followed by South Asia making up 17%. The GCC accounted for 15% and Eastern Europe made up 14%.
India was the largest single source of tourists with 1.2mn visitors followed by Russia with 616k visitors, the United Kingdom with 555k visitors, Saudi Arabia with 538k visitors, and Oman with 511k visitors.
International visitors by source region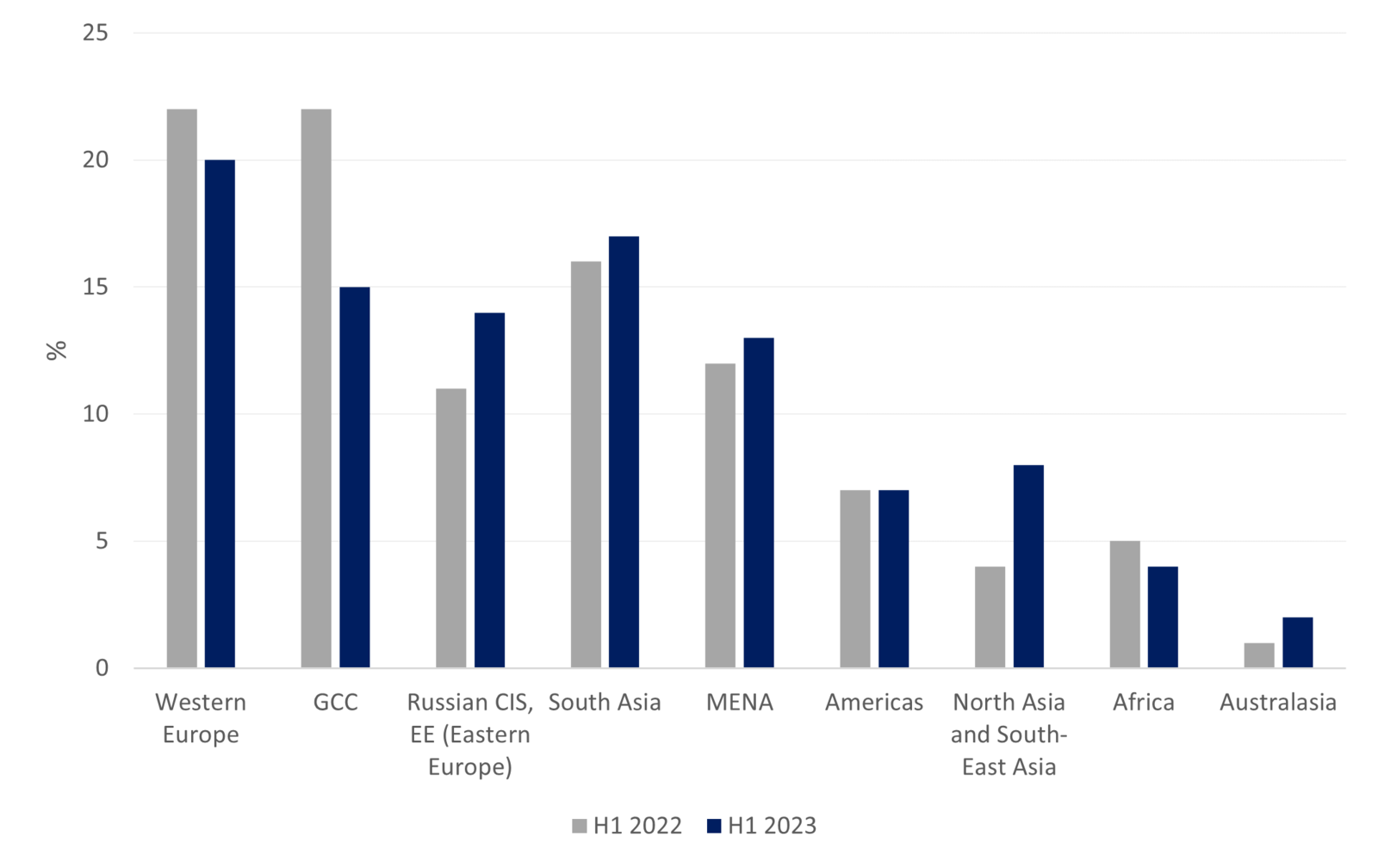 Source: DTCM, Emirates NBD Research
Growth in Chinese visitors
The number of Chinese visitors grew by almost 300% y/y to 260k visitors in the first half of 2023. However, the number of Chinese visitors hasn't fully recovered from the pre-pandemic levels, down 48% from 501k visitors for the same period in 2019. Nevertheless, Dubai is well positioned to attract more Chinese visitors in the reminder of 2023. In contrast to other global destinations, where Chinese travelers would need to wait to get a visa and pay a premium on airfare due to the limited number of flights, the recovery in the supply of flights to Dubai and visa on arrival makes Dubai an attractive destination for Chinese tourists.
Total number of Chinese visitors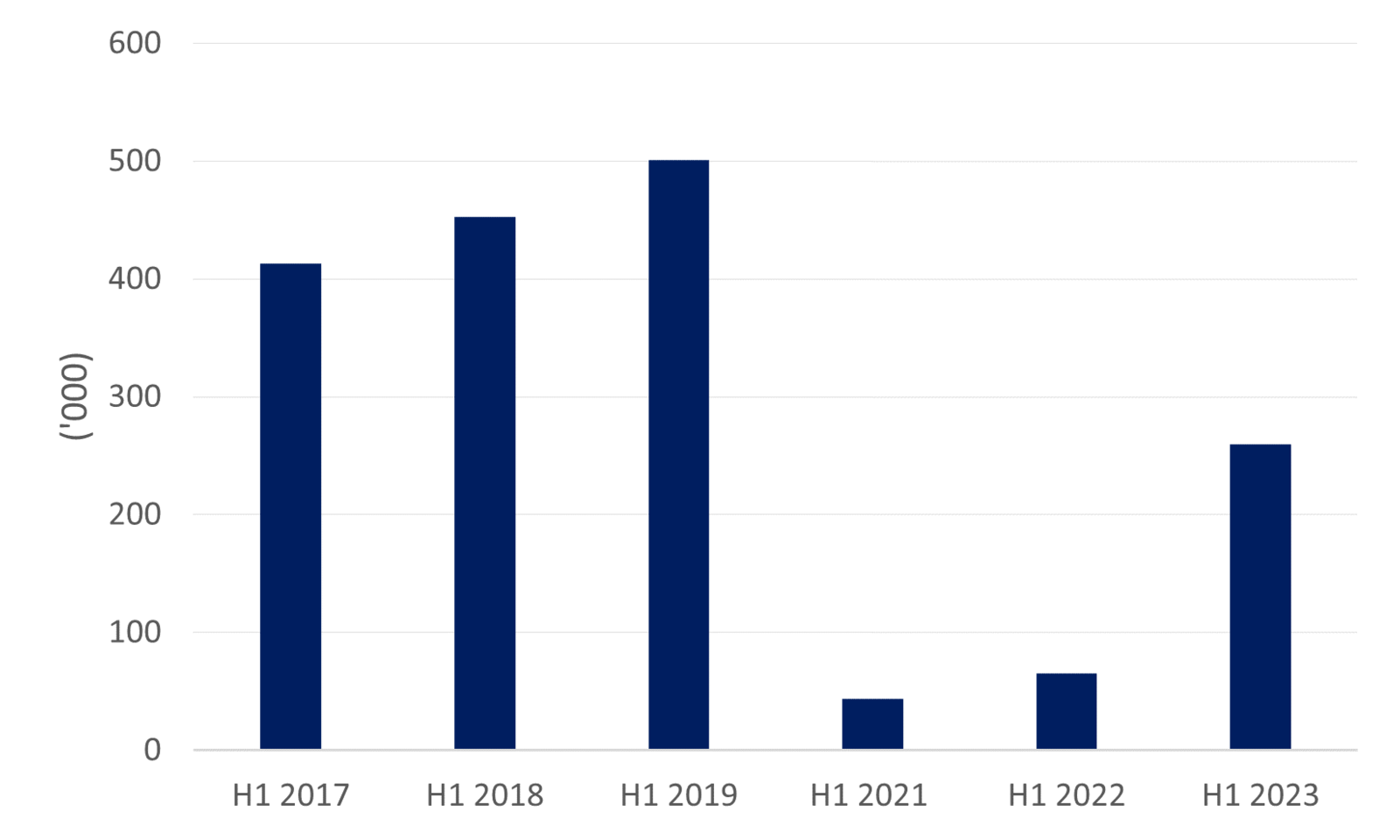 Source: DTCM, Emirates NBD Research
Rise in hotel occupancy
The average hotel occupancy for the first half of 2023 rose to 77.7%, a 4.2pp increase over the same period in 2022, and 2.1pp higher than 2019 according to data from DTCM. Although the guests' length of stay declined from 4.3 nights to an average of 3.9 nights, the occupied room nights grew by 12% y/y and 32% from 2019 to 20.73mn nights. The average revenue per available room remained unchanged from 2022 at AED 415 despite the 6% y/y decline in the average daily rate to 534 AED. The drop in the daily rate can provide a cushion for the sector if the currencies of the major origins of visitors remain relatively weaker to the dollar. The number of total available rooms grew by 6% y/y to 148,689 rooms. Five-star hotels had the biggest share of the inventory with 34%, while four stars hotels made up 29%, and hotels from one to three stars made up 20%.
Hotel occupancy and RevPAR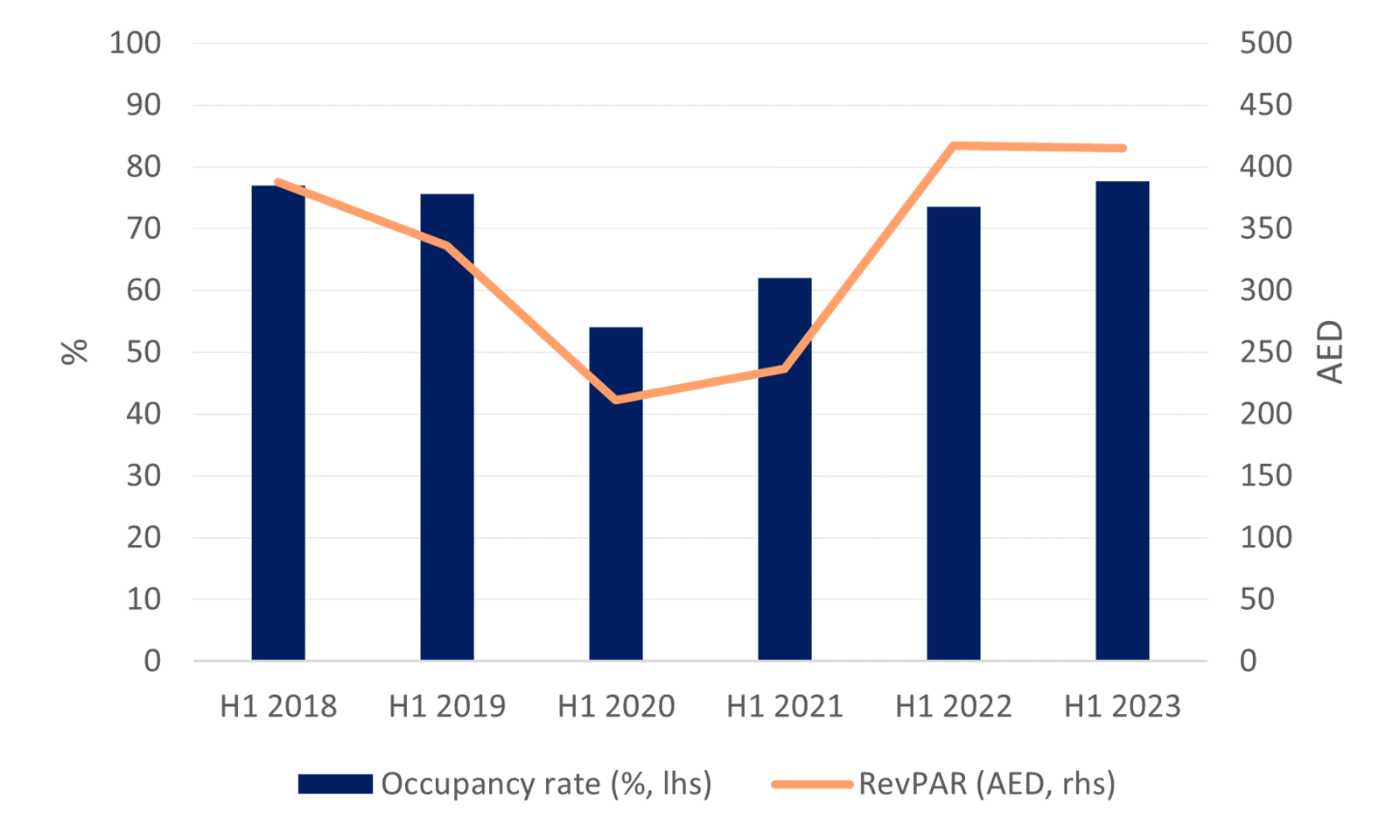 Source: DTCM, Emirates NBD Research
The outlook for the reminder of 2023 appears positive.The 8.55mn visitors in the first half of 2023 suggests that Dubai is set to have a record year in visitor numbers and surpass the 16.7mn visitors recorded in 2019.