Dubai Statistics released updated and revised GDP data through Q1 2023. Growth slowed to 2.8% y/y in Q1 2023, much slower than the (revised) 5.7% growth recorded in Q1 2022. However, the first quarter of last year was boosted by the post-Covid rebound and is a high base. Growth was also slower than the 3.7% y/y recorded in Q4 2022.
The fastest growing sector in the first quarter of this year was transport and storage, up 10.3% y/y even off last year's high base, as air travel continued to recover post-pandemic. Hospitality was the next fastest growing sector at 5.6% y/y in Q1 2023, and was followed by financial services (3.2% y/y) and manufacturing (2.4% y/y).
Dubai GDP growth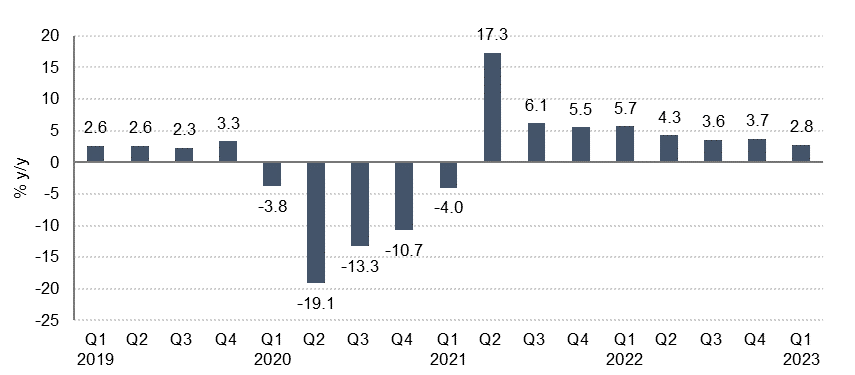 Source: Dubai Statistics Centre, Emirates NBD Research
The largest sector of Dubai's economy, wholesale and retail trade, grew just 1.2% y/y in the first quarter. The construction sector posted the first quarter of annual growth since Q4 2019, expanding 1.9% y/y in Q1 2023. Real estate services growth accelerated to 2.4% y/y from 1.2% in Q1 2022. Mining and quarrying (hydrocarbons), agriculture, and health and social work contracted on an annual basis in Q1, but account for relatively small shares of overall GDP.
Dubai key sector growth rates (% y/y)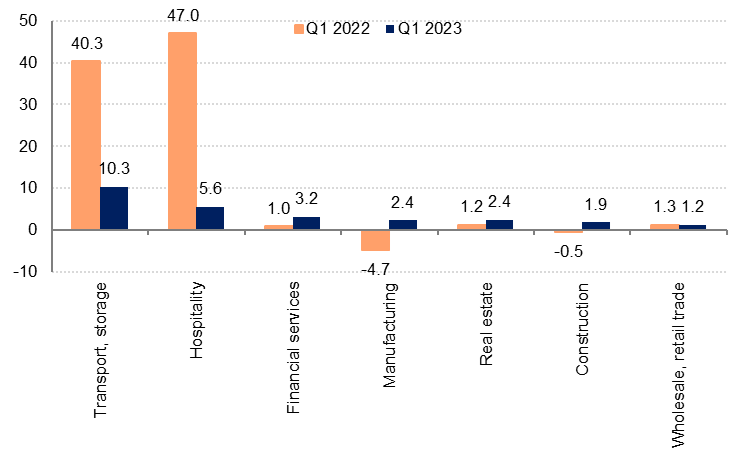 Source: Dubai Statistics Centre, Emirates NBD Research
Revisions to the data
The new data showed Dubai's economy grew 4.4% in 2022, below our estimate of 5.5%, and also low compared with the whole UAE's non-oil sector growth of 7.2%, according to federal data. Dubai's economic growth in 2021 was revised down to 5.7% from 6.2% previously.
The real GDP statistics were also rebased to constant 2010 prices (previously 2006 was the base year), which led to an increase in the share of hydrocarbons to around 2% of Dubai's real GDP in 2022, up from around 1.5% previously. This is probably because oil prices were higher in 2010 than in 2006. Utilities, financial services, health and social work, and education all accounted for a bigger share of Dubai's economy than previously estimated. On the flip side, the size of the manufacturing, hospitality, and real estate services sectors were revised slightly lower in the new time series.
Outlook
We had expected growth in Dubai to slow this year off last year's high base and as a result of slower global growth and higher borrowing costs. However, other indicators suggest that Dubai's economy has continued to grow in H1 this year – the S&P Global PMI averaged 55.5, slightly higher than the average for H1 2022; real estate prices continue to rise (albeit at a slower pace) and tourism data show that international visitor numbers have recovered to pre-pandemic levels in the first half of this year.
We have revised our forecast for Dubai GDP down to 4.0% in 2023 from 5.0% previously, to take into account the latest official data and revisions. Our forecast for UAE GDP growth remains unchanged at 2.9% in 2023, with non-oil growth expected to slow to 5.0% from 7.2% in 2022.